1961 Corvette roadster. It has the original numbers matching engine 283 ci, 270 hp, with dual 4 barrel carter WCFB carburetors, with high lift cam and solid lifters from the factory. The exterior colour is Fawn beige with ermine white coves, fawn beige interior, with a white convertable top, and a fawn beige hard top. The car was built on June 14 and with options cost new $4,872.75 .
I bought this car in 1968 in Portland Oregon for $1,750.00 . I am the second owner of this car. The car came from California and still has the original smog control device with original AC hose.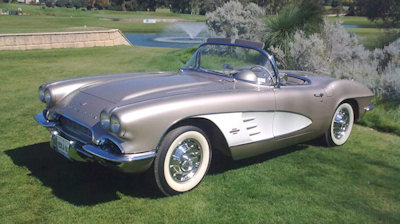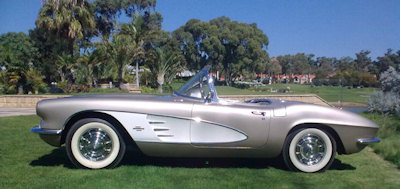 This car was just my every day driver while at University. I've had the joy of a bit of California cruising but the car spent most of its years in Oregon. I shipped it to Perth in 1998 and have enjoyed Sunday drives since. Needless to say, unfortunately, it is no longer my daily driver. These old muscle cars seem to have a mind of their own. Sometimes everything works great and often not. That's one of the joys of owning a car like this. You never know what you are in for when you take it for a drive. This car received the Top Flight award at the NCRS judging meet at the Joondalup Golf Resort in April 2010.